Categories
Newsletter
Add our store to your Favorites to receive our email newsletters about new items & special promotions.




Sony FDRAX53/B 4K HD Video Recording Camcorder (Black)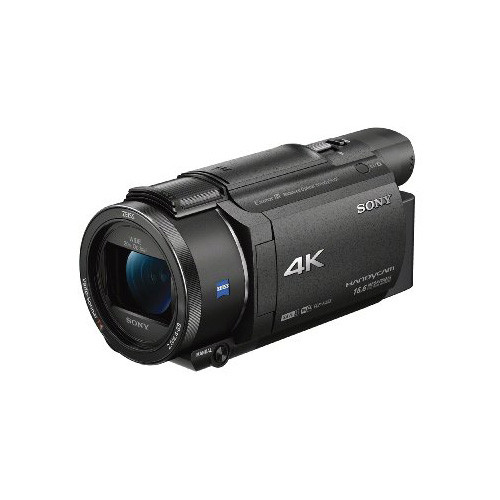 Click Thumbnails to Enlarge
Product Description
to be announced to be announced to be announced to be announced to be announced to be announced to be announced to be announced to be announced to be announced to be announced to be announced

PayPal is the acceptable form of payment for all eBay orders. Please review your PayPal account to make sure all information is up to date, including ship to addresses and funding sources.Sales Tax
Sales tax will be charged at the time of purchase, for all orders which ship to the state of New York.
Turnaround Time
All orders ship on normal business days (except US holidays), and the turnaround time to process is usually 'same business day'.
Shipping Price
All orders ship by standard speed for free. If you require a faster delivery service, please select it at checkout, and a quote will be populated.
Transit time
Carriers do not guarantee transit time, unless Next Day or Second Business Day is selected. The estimated delivery time for standard shipments is 2 to 7 days.
Oversize Shipments
Oversized items, such as large televisions, ship by LTL Freight liners. An appointment is required for delivery, so please include a phone number on your order. Normal delivery times for LTL Freight are approximately 5 to 7 business days.
To accept an oversize shipment, please inspect the product at the time of delivery. Carriers are required to wait while an inspection takes place. Please do not sign for the delivery until you have completed a full inspection. Please do not consider scuffs or wear and tear to the outside shipping box as damage.
If your shipment is damaged, refuse the delivery and contact us right away. We will process your new shipment upon confirmation of the original being returned.
Signature Required
Orders over $250 will require a signature at the point of delivery. In order to protect your payment account, please ship to an address where someone will be available to accept the order. Carriers will attempt delivery 3 days in a row. If customer is unavailable, the item will be returned to sender, and the out and back shipping incurred will be deducted from the refund. Unfortunately, we are unable to redirect shipments to any address other than what was provided on the payment detail at the time of the order.
Returns
We are happy to accept returns for all qualifying products which follow our friendly and simple return policy. All returns require an RMA # on the package. This can be obtained by contact us, or requesting a return via eBay.
Returns for Refund
All refunds are processed to the PayPal account registered on the order. The turnaround time once a product arrives back to us is approximately 5 business days. If you have not seen the refund post, please contact us with the return tracking number. All open box returns are subject to a 15% minimum restocking fee.
Returns Due to Shipping Damage
If it was possible, we would hand delivery each package to you. However, we must rely on 3rd party carriers such as FedEx, UPS, USPS, etc. to deliver your items. In rare cases, they break in transit. If this happens, please retain ALL product packaging and contact us right away. All reports of damage must be filed within 1 business day from receipt, otherwise the claim us unable to be filed.
Items not Qualifying for Returns
Televisions** (see more below)
Furniture
Outdoor Grills
Opened Software
Opened blank media
Opened consumables (ink, batteries, paper)
Cellular Phones
Television Policy
Factory Sealed
All factory sealed televisions are returnable, and will follow standard policy noted above.
Buyer's Remorse
If you are not happy with your TV purchase, we are happy to accept a return. You will be required to pay for the shipment and insurance. We are unable to accept TV returns which are missing ANY of the following:
-Factory packaging
-Manual, instructions and accessories
-Original crating/packing materials
Damaged in Transit
If your shipment is damaged, refuse the delivery and contact us right away. We will process your new shipment upon confirmation of the original being returned. See above 'Oversized Shipments' for further details.
Factory Defect
In the rare instance you find a factory defect with your televisions, please contact us directly. In most cases, we can help you work through the issue. If we are unable to resolve, a support ticket with the manufacturer is required. The manufacturer will service the TV in the home, for free. If they are unable to resolve the issue, the manufacturer will replace.
Founded in 1991, DataVision has been an integral part of the New York retail community with a rich history and an exciting future. DataVision has gained the reputation for outstanding service and commitment to customer satisfaction as well as a wide selection of top brand inventory. With awards and recognition from Dealerscope, Twice, and New York Magazine, our customers see us as the go to source for electronics and housewares in New York and beyond.
We realize you have a quite a few choices when buying a product, so we are fully committed to ensure you have a positive buying experience from start to finish. Feel free to contact us with any questions, concerns, or comments regarding your order or our company as a whole. At DataVision, we proudly model our organization in a manner that is professional, knowledgeable, and service oriented.
DataVision is an Authorized Online Retailer for most major brands. Buy with confidence knowing the manufacturer has formally awarded this designation, based on the hight level of service and authenticity guarantees.
No sales tax will be collected for any shipment outside of New York State. Since all of our items ship for free, your savings is much greater than at other retailers.
Hours
Mon – Fri: 10am – 6pm
Saturday: 10am – 7pm
Sunday: 10am – 6pm
Phone
888-888-20876
Retail Store
50 West 23rd Street
New York, NY 10010
Free Shipping
Free Returns

24 Hour Shipping
Warranty