Sony CyberShot RX10 IV Digital Camera with 64GB SD Card and Accessory Bundle
Condition: Brand New in Original Packaging
SKU: ASONDSCRX10M4BK2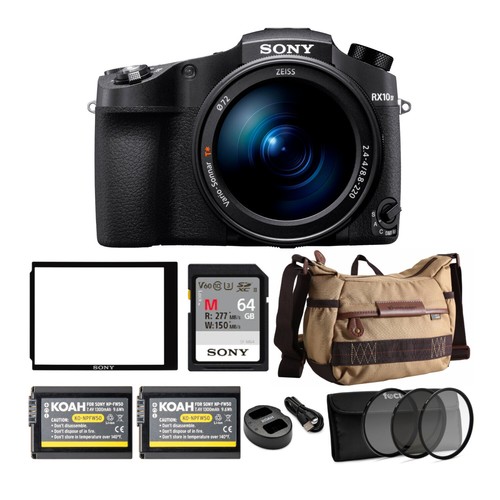 Sony CyberShot RX10 IV Digital Camera

Rechargeable Battery Pack NP-FW50
AC Adaptor AC-UUD12
Micro USB Cable
Shoulder Strap
Lens Cap
Shoe Cap
Lens Hood
Eyepiece Cup

Sony LCD Protector for RX1/RX10/RX100 series and Alpha a7 II Cameras
Focus Camera 72mm 3-Piece Filter Kit with UV, CPL and Neutral Density
Sony 64GB V60 UHS-II M-Series Memory Card
Koah PRO Two-Pack Rechargeable 1300mAh Battery and Dual Charger for Sony NP-FW50
Vanguard Havana 21 DSLR Shoulder Gadget Bag

Experience the RX10 that elevates all-in-one camera capabilities and image quality to an all-time high. Now, it's easier to capture more stunning stills and movies at every opportunity. The RX10 IV is much more than a solid, smart all-in-one compact—it packs enough groundbreaking innovations for even professionals to marvel at, from this ultra-fast AF system of its kind, to legendary optics throughout its 25x zoom range, to extraordinarily precise, powerful image processing, and more.
EXMOR RS Stacked CMOS Sensor
The large 1-inch (1.0-type) back illuminated EXMOR RS Stacked CMOS image sensor not only enhances efficiency and speed of A/D conversion through its stacked structure due to more circuit sections. It also realizes super-fast readout speed thanks to a DRAM chip integrated into the sensor structure. Together with the BIONZ X processing engine and front-end LSI, it allows for 20.1-megapixels at up to 24fps continuous shooting.
24 fps up to 249 Frames with AF/AE Tracking
Designed to allow for high resolution, continuous shooting at high frame rates, the RX10 IV features a BIONZ X image processing engine with front-end LSI that achieves high-speed continuous shooting of 20.1-megapixel images at up to 24 fps with full AF/AE tracking, and an impressive buffer limit of up to 249 images. With the significant improvements in processing power for the RX10 IV, EVF display lag during continuous shooting has been substantially reduced, allowing you to capture the decisive moment with ultimate confidence. Also, for convenience during image playback, continuously shot images can be displayed in groups instead of individual shots.
4K Movie with Fast AF
RX10 IV offers the advantages of 4K (QFHD 3840 x 2160) movie recording, with its Fast Hybrid AF system, realizing fast and accurate focusing speed and AF tracking for video. In 4K6 mode, the new RX10 IV utilizes full pixel readout without pixel binning, capturing approx. 1.7x more information than required for 4K movie output ensuring fine details are captured accurately. Using the XAVC S codec to record video at a high data rates, users have the option of shooting at either 24p or 30p in 4K mode up to 100mpbs or in frame rates of up to 120p in Full HD mode.
Optical SteadyShot Image Stabilization
The built-in Optical SteadyShot image stabilization helps to reduce image blur caused from camera shake, equivalent to approximate 4.5 stops shutter speed improvement, which is especially handy at high magnification when the lens is fully extended to 600mm, but equally as good throughout the entire zoom range.
Super-speed Anti-Distortion Shutter
The super-speed Anti-Distortion Shutter has a maximum shutter speed of up to 1/32000 second, which minimizes the rolling shutter effect commonly experienced with fast moving subjects. This fast shutter speed also allows the camera to capture sharp, clear images with a wide open aperture in bright conditions.
ZEISS Vario-Sonnar T* 24-600mm Ultra-zoom Lens
The 24-600mm ZEISS Vario-Sonnar T* lens has a large maximum aperture of F2.4-F4.0 for outstanding image quality throughout the ultra-telephoto zoom range. Eight ED (extra-low dispersion) glass elements including two ED aspherical and one Super ED lenses compensate for the chromatic aberration while the ZEISS T* Coating helps reduce flare and ghosting.
EXMOR RS Stacked CMOS Sensor
High-speed BIONZ X image processing engine
24 fps continuous shooting with full AF/AE tracking
4K movie recording capable with full pixel readout
1.44M dot 3-inch tiltable LCD screen with touch focus/pad
2.35M dot XGA OLED Tru-Finder electronic viewfinder
Wi-Fi/NFC/QR code for easy file transfer
Fast AF acquisition speed of 0.03 seconds
Optical SteadyShot image stabilization
ZEISS Vario-Sonnar T* 24-600mm Ultra-zoom Lens
Sony CyberShot RX10 IV Digital Camera
Rechargeable Battery Pack
AC Adapter
Micro USB Cable
Shoulder Strap
Lens Cap
Shoe Cap
Lens Hood
Eyepiece Cup
User Manual

The Sony M Series UHS-II SD Memory Card is a perfect balance of speed, power and value. This high speed memory card provides a fast buffer clearing time between burst shooting, and an efficient workflow when transferring hi-res photos and 4K video content to a computer.
Up to 277MB/s Transfer Speed
With up to 277 MB/s read speed you can back up and transfer images faster, for more efficient workflows – less time waiting, more time doing.
Up to 150MB/s Write Speed
A fast write speed, up to 150 MB/s, provides quick buffer clearing times for continuous burst and high-resolution still image capture. For video creators, the UHS Speed Class 3 and new V60 Video Speed Class provide fast minimum write speeds for dependable, high-bitrate, 4K video capture.
Superior Reliability
The SF-M Series Memory Card is tested to perform reliably even in harsh conditions. With an IP57 rating, this SD card is durable and resistant. Designed to survive drops up to 1.5m, waterproof for 30 min at 1m depth and able to operate in temperatures ranging from -25 to 85-degree-C, the SF-M Series UHS-II SD Card will last, whatever the weather.
Exclusive Sony Software
Enjoy added security and peace of mind with Sony's File Rescue software, developed to recover a variety of corrupted or accidentally deleted files. To monitor, and alert you to, memory card write limits the SD Scan Utility is also available. Both tools are free for Sony memory card customers.
128GB storage capacity
Up to 277MB/s transfer speed
Up to 150MB/s write speed
Class 10 SD speed, Class 3 UHD speed
V60 Video Speed Class for 4K video capture
IP57 durability rated
Downloadable File Rescue software
Compatible with Sony's SD Scan Utility
Sony 64GB V60 UHS-II M-Series Memory Card
Operating Instructions

Whether you're going on a desert safari or an urban one, the tan Havana 21 Shoulder Bag from Vanguard will hold and protect your DSLR or Mirrorless camera with attached lens, 1-2 extra lenses, flash unit, accessories and a 7″ tablet. The bag features a zippered main compartment with a removable, padded insert. Simply remove the insert to free up space for everyday excursions which don't involve photography. Within the shoulder bag next to the insert is a slip-in pocket with a touch-fastening tab for storing your 7″ tablet. The exterior of the Havana 21 features a zippered front pocket for storing your smartphone, wallet, and other small items. Inside this pocket is a key lanyard, removable rain cover, and a sewn-in pouch with two clear, slip-in memory card pockets. On either side of the bag is an exterior slip-in pocket with a fabric cover for holding a water bottle, gloves, or similarly sized items. The Havana 21 can be carried by its top handle or adjustable, padded shoulder strap. And for improved interior visibility when locating gear in low light, the inside of the bag is made of light gray 150D polyester and velvet.
Fits
One DSLR or Mirrorless camera with medium zoom lens attached
1-2 extra lenses
Flash unit
Accessories such as memory cards, cables, battery, smart phone and charger
7″ tablet
Insert
Padded, zippered insert with top handle for storing and organizing photo gear
2 padded dividers with touch-fastening fabric
Exterior Pockets
1 rear slip-in pocket with a touch-fastening tab for a map, brochure, or other slim item
2 slip-in, stretch pockets – one on each side for a water bottle and similarly sized items
1 zippered front pocket with a key lanyard, rain cover, and room for a smartphone and other small items
Interior Pockets
Rear interior wall features a slip-in pocket with a touch-fastening tab for storing an up to 7″ tablet
Memory Card Pouch
1 memory card pouch sewn inside the front, zippered, exterior pocket which features 2 clear, slip-in pockets with a touch-fastening flap
Shoulder Strap
Adjustable padded shoulder strap which may be worn over the shoulder or across the chest
Holds DSLR/Mirrorless, 2-3 Lenses & Flash
Interior Slip-in Pocket for 7-inch Tablet
Zippered Insert & 2 Removable Dividers
Front Zippered Pocket with Memory Pouch
Adjustable Padded Shoulder Strap
2 Exterior Pockets for Water Bottles
Exterior Slip-In Pocket for Maps or Book
Top Carry Handle
Vanguard Havana 21 Shoulder Bag for DLSR Camera Gear
Rain Cover

With the Koah PRO Sony NP-FW50 Two-Pack Rechargeable 1300mAh Battery and Dual Charger you can be sure you always have enough power to make it through the shoot. The Koah rechargeable lithium-ion battery and charger kit includes two batteries for the Sony NP-FW50 and one dual-USB charger. It allows you to quickly charge two camera batteries at the same time.
More Power
The NP-FW50 battery features 1300mAh and is rated at 7.2V for a longer run time than the Sony original. Equipped with premium lithium-ion cells to provide maximum battery life, the batteries also come with a 3-year manufacturer warranty. The Koah PRO batteries are completely compatible with all Sony original equipment, including the Sony charger.
Dual Charger
The dual charger features a USB port that can be employed universally. The unit is compact, portable, lightweight, and suitable for travel. The Dual USB Charger features an input power of 5V 2A and an output power of 4.2V/4.35-800mA, 8.4V-600mAh. The charger works with original Sony batteries.
Compatibility
The NP-FW50 battery is compatible with Sony Alpha a7, Alpha a7 II, Alpha a7R, Alpha a7R II, Alpha a7S, Alpha a7S II, Alpha a3000, Alpha a5000, Alpha a5100, Alpha a6000, Alpha a6300, Alpha a6500, Alpha NEX-3, Alpha NEX-3N, Alpha NEX-5, Alpha NEX-5N, Alpha NEX-5R, Alpha NEX-5T, Alpha NEX-6, Alpha NEX-7, Alpha NEX-C3, Alpha NEX-F3, Alpha SLT-A33, Alpha SLT-A35, Alpha SLT-A37, Alpha SLT-A55V, Cyber-shot DSC-RX10, Cyber-shot DSC-RX10M2, Cyber-shot DSC-RX10M3, and ILCE-QX1 cameras.
Replacement batteries for the Sony NP-FW50 battery
Charger replaces the Sony BC-VW1 and BC-TRW chargers
Japanese lithium-ion cells ensure longer battery life
Charge two batteries simultaneous from any USB power source
Compatible with the Sony charger
Charger is compatible with Sony batteries
Batteries are rated at 7.2V and 1300mAh for a longer run time
Includes a 3 year manufacturer warranty
Koah PRO Two-Pack Rechargeable 1300mAh Battery and Dual Charger for Sony NP-FW50
Three year warranty

The Focus Camera 72mm 3-Piece Filter Kit includes a UV Protective Filter, CPL Circular Polarizer Filter and a Neutral Density Filter. Each individual filter is heat-treated and multi-coated to avoid any rare movement or distortion. Each of these multi-coated glass filters will optimize your photography experience, and protect your lenses from scratches and dust.
Circular Polarizer Filter (CPL)
The CPL filter is often used to increase the contrast and saturation in blue skies and white clouds. The circular polarizing filter does not affect the overall color balance of a shot, and it will provide protection for your lens while
shooting. The CPL filter is perfect for digital SLR cameras or traditional 35mm SLR applications.
Neutral Density Filter
The Neutral Density filter reduces intensity of all wavelengths or colors of light equally, giving no changes in hue or color rendition. The purpose of standard photographic neutral density filters is to allow the photographer greater
flexibility to change the aperture, exposure time and/or blur of subject in different situations and atmospheric conditions. Instead of reducing the aperture to limit light, the photographer can add a ND filter, and can then set the shutter speed according to the particular motion desired and the aperture set as needed.
UV Protective Filter
Ultra Violet filters minimize the bluish cast sometimes found under daylight conditions. These filters will render your photos clearer, sharper and with more contrast. They are also the best available protection against accidental damage to the front element of your lens. If you accidentally drop your lens, you will be protected against nicks and scratches. As a lens protector, it should be left on at all times.
Designed to fit a 72mm thread
High-quality optics
Heat-treated and multi-coated to avoid distortion
Includes UV, CPL, and ND8 filters
CPL Filter eliminates reflections from glass and water
Sharpen image contrast with the UV protective filter
ND8 Filter reduces intensity of colors of light equally
Focus Camera 72mm 3-Piece Filter Kit with UV, CPL and Neutral Density
Filter Storage Wallet

The Sony PCK-LM15 LCD Protective Cover is a clear protective LCD covering for the Sony Cyber-shot RX1, RX1R, RX100, RX100 II, and Alpha a7 II digital cameras. This highly-durable, semi-hard polycarbonate cover helps to reduce cracks, dust, and debris from reaching your camera's rear monitor. It also features an anti-fingerprint coating to help reduce excessive smudging.
Prevent Cracks, Dust, and Debris on LCD
Semi-hard protective sheet
Compatible with RX1/R, RX100/II Cameras
Also Fits Alpha a7 II Camera
Anti-Fingerprint Coating
Durable design in transparent polycarbonate
Sony LCD Protector for RX1/RX10/RX100 series and Alpha a7 II Cameras
Shipping for this item is free in the Continental US Lower 48 states only. Shipping Fees include all handling & insurance.
For Domestic Shipping to the Lower 48 States: All shipping prices include shipping, handling and insurance (if necessary).
For Domestic Shipping to Alaska, Hawaii, Puerto Rico, US Territories, APO & FPO: For many items to these destinations there will be an additional shipping fee. The shipping costs may be calculated on the Shipping and Payments tab by entering your Zip Code. Free shipping is for the lower 48 only
For International Shipments: All international orders are managed through eBay's Global Shipping Program. Please see the Shipping Tab for full costs.
Hotels: Unfortunately at this time we do not ship to hotels.
Tax: Sales tax will be collected on all orders shipped to NY and NJ
Paypal: PayPal is our preferred method of payment for all of our eBay sales. For customer service please contact us through eBay Messages
Immediate payment via PayPal is required for all Buy It Now items. For all Best Offers, payment is required within 3 days. If you need special arrangements, please contact us through eBay messages. After your order has been shipped, you will receive an e-mail with the name of the carrier and the tracking number.
Returns are permitted if you are not satisfied with your purchase and must be initiated by the buyer within 30 days from delivery date.
For Domestic Purchases:
If you are not satisfied with your purchase, you may return it (see exceptions in Paragraph F below), within 30 days of receipt, for a refund or replacement – subject to the following:
a) Contact us through eBay messages or the returns link to receive a Returned Merchandise Authorization (RMA) number to ensure proper handling of the return and/or replacement.
b) In order to be eligible for a full refund, less shipping expenses, your returned merchandise must be in its original new condition, as shipped, with all packaging, manuals, and paperwork intact and unaltered. Items which have been opened are returnable, however they will carry a restocking fee.
c) Customers remain responsible for the shipping and handling expenses incurred in shipping the item to them. If an item is offered with 'Free Shipping,' this means we are paying the freight on your behalf. If that product is returned for a refund, the shipping expenses incurred, will be deducted from the refund. If an item is refused, the carrier bills us for shipping both ways, and these expenses incurred on your behalf need to be deducted from your refund
d) All returns are subject to inspection. Products returned must be in brand new condition, as per Paragraph b), if not, it may be deemed non-refundable or will be subject to at least a 15% restocking fee. If your return is missing accessory components, or shows signs of wear – restocking fees will be higher. For specific restocking fees that may be applicable to your return, please contact us through eBay messages.
e) Returns should be packed in an outer shipping carton, not just the original box/packing of the product. The RMA# should be clearly inscribed on the shipping label. A copy of your invoice and Order # should be included, and your return should be insured, with shipping costs pre-paid. We cannot accept any COD shipments.
f) There are product categories which are not returnable due to hygienic or sanitary as required by manufacturers. If your items is a consumable good or is has been locked by a manufacturer such as Apple or HP the return will not be accepted
For Warranty information, merchandise lost / any other issues in transit, or order cancellations, please contact us through eBay Messages. In an event where there is an error regarding a price error or description, we will notify you ASAP. In this event there will be no obligation to proceed with the purchase. Any amount charged to the customer will be 100% refunded.
For International Purchases:
Returns will be accepted within 30 days of the receipt of the item. In order to be eligible for a refund your returned merchandise must be in its original unopened condition, as shipped, with all packaging, manuals, and paperwork intact and unaltered. Items removed from their 'blister-pack' display packaging are non-refundable.
International Buyers must pay return shipping via the same method originally shipped.
We strive for every transaction to be five stars!
Please let us know how we can make yours a five-star rated one too!
Our goal is to make sure you are customer 100% satisfied with your order. When you receive your order take a minute to leave us positive feedback at eBay. If you are not satisfied with any part of our service we please contact us to allow us correct the problem, prior to leaving your feedback. Please send us a message through eBay and let us know how we can earn your 5 stars!
If you have any questions or comments, please contact us through eBay message.